Invitation to SA Scrabble for ECASA to NOW be held later in the year in Uganda… if you want to play contact Andrew 0832607530
Uganda will host the 2020 East, Central and Southern Africa- ECASA- Scrabble Championship, it has been confirmed.
The development comes after Uganda finished third at the concluded event which was held at Baobab College in Lusaka, Zambia.
Scrabble Kenya
Final standings of the June 2019 Kenya Machakos National Tournament. #scrabble#MachakosOpen@WorldScrabble@JkuatScrabble@moscakenya@chessmasala@Muema_Muumbi@ntvkenya@ScrabbleUganda@Lalyek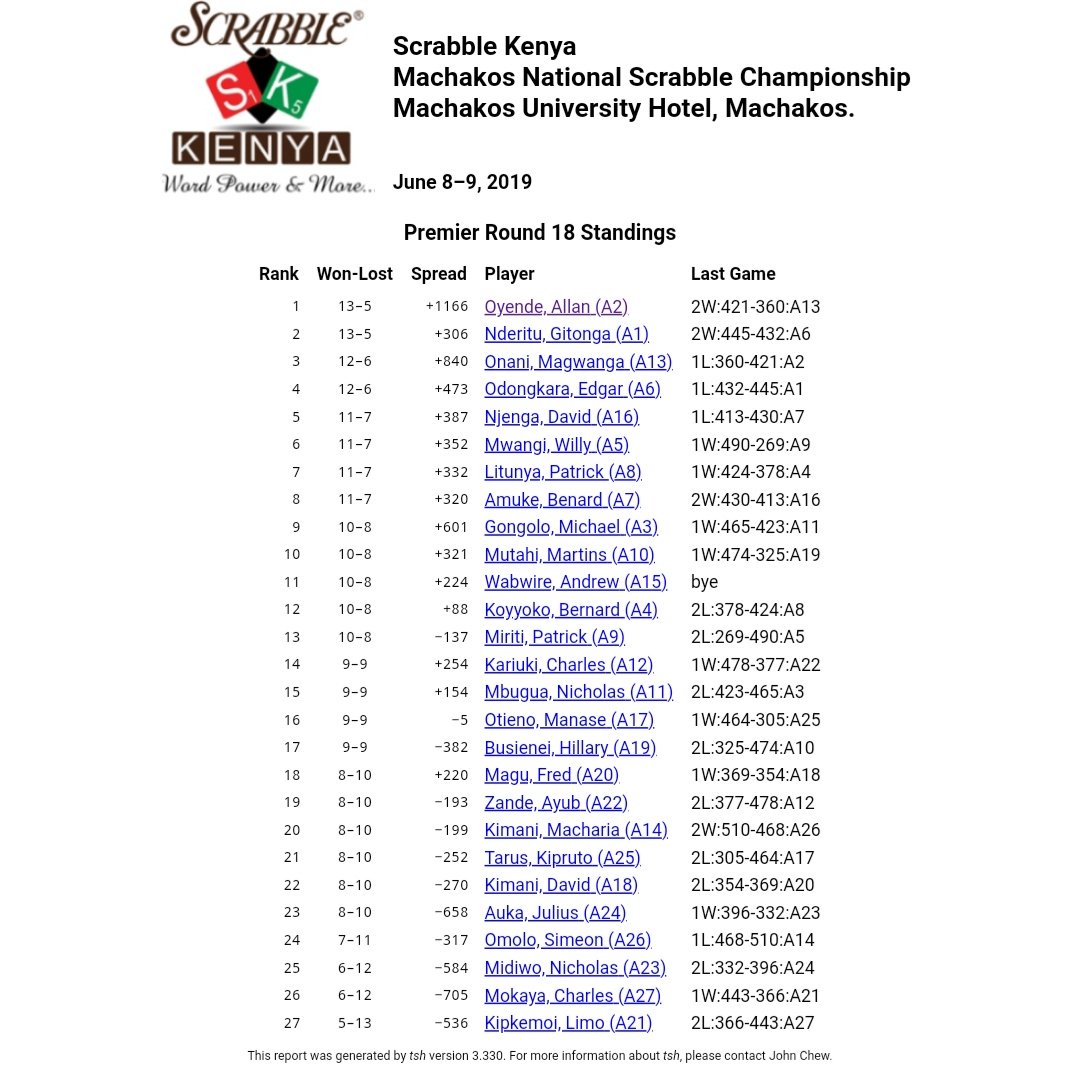 Read about Kenya's new upcoming star!
Meet Priscilla Nduku – the Kenyan rising talent in world scrabble
Scrabble Kenya's Tournament Schedule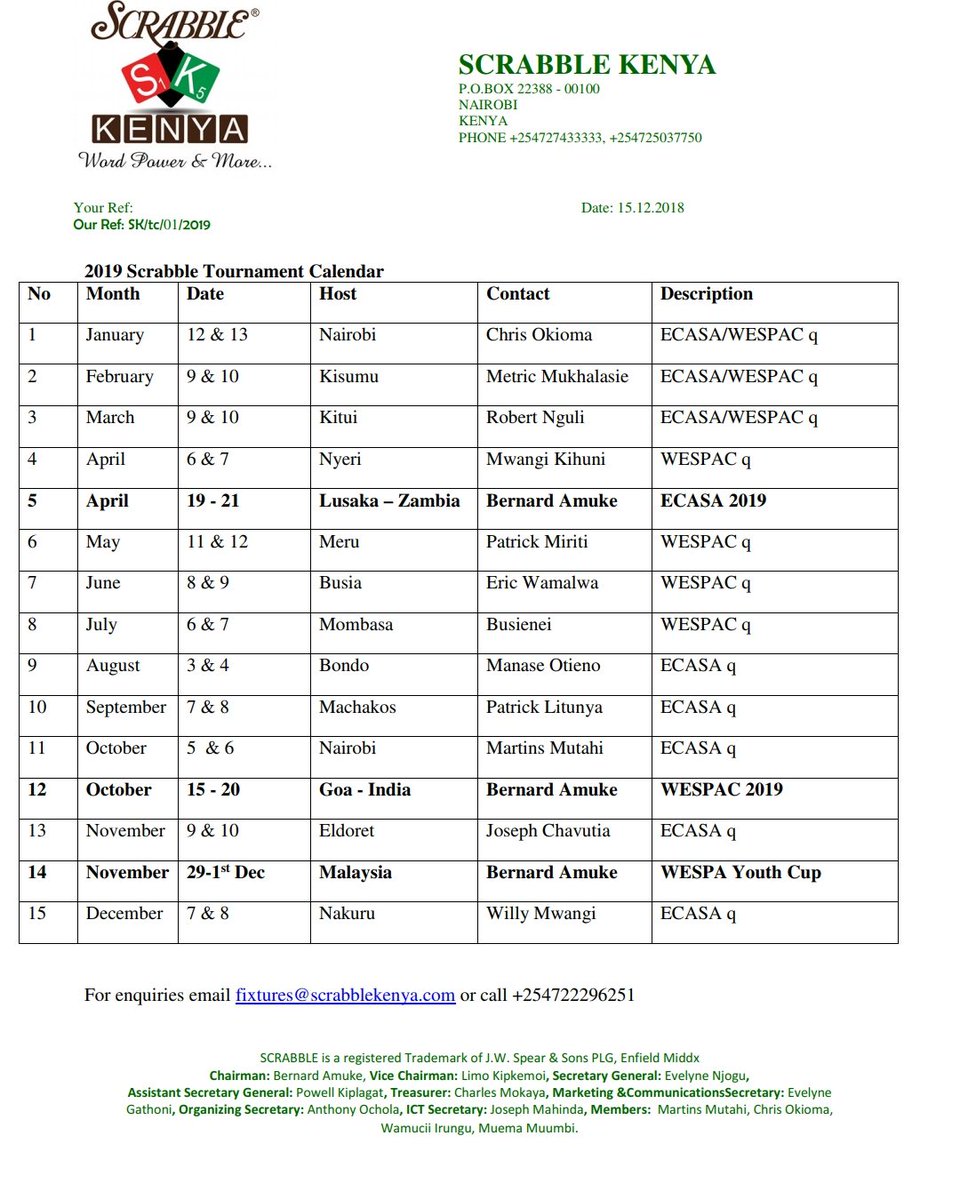 Scrabble Botswana
Scrabble Botswana is a new Scrabble Federation on the map ! They have a Facebook page and various videos and a lot of interest.
They play every Saturday. Mogoditshane Senior is the venue. Bring a board and experience some fun 😉😁😁
Time: 1400hrs-1700hrs
The design of Setswana Scrabble
Thapelo J OtlogetswePages 153-161 | Published online: 16 Dec 2016
https://www.tandfonline.com/doi/abs/10.1080/02572117.2016.1252008
Scrabble Nigeria
https://medium.com/airbnbmag/nigerian-scrabble-2675ddbb55d1
ECASA 2019
Ugandans dominated Day one of the 2019 East, Central and Southern Africa Scrabble Championship, that is taking place in Baobab College, Lusaka in Zambia.
http://nimsportug.com/2019/04/21/scrabble-uganda-take-charge-of-day-one-of-ecasa-championship/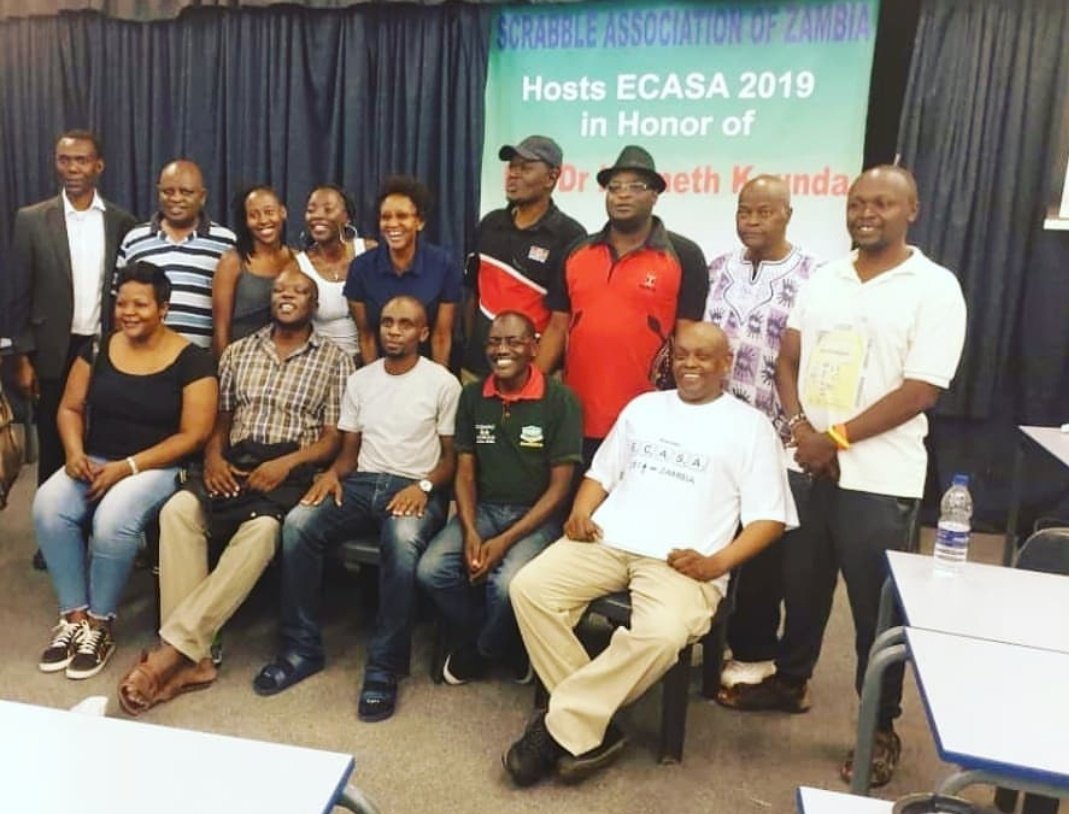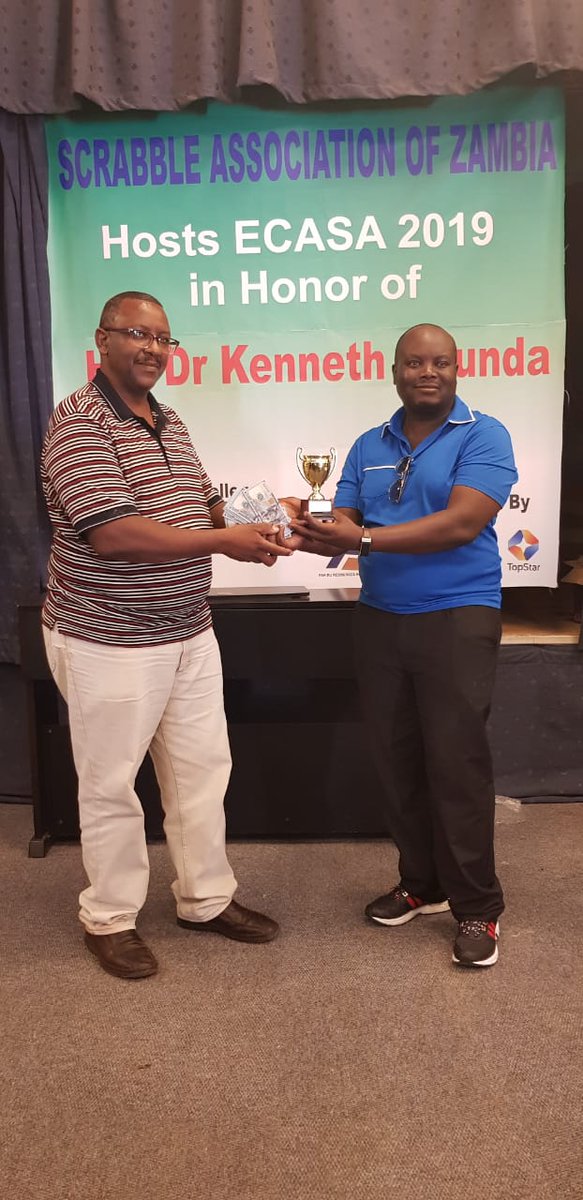 Peter wins 2018 Africa Scrabble championship in Kenya
By Alex Monye
03 December 2018 | 4:12 am
German football plans May return but debate rages
16 hours ago
German football eyes May return but debate rages
12 hours ago
Klopp says Liverpool are not finished article
10 hours ago
Moses Peter (left) receiving the trophy as champion of the 2018 African Scrabble Championship, which ended in Kenya…yesterday.
Just as the Super Falcons overcame South Africa to win the Africa Women Cup of Nations football title in Ghana on Saturday, Nigeria's Scrabble national team captain, Moses Peter, also emerged the new Africa Scrabble Champion in the 13th edition of the championship held at the Resort Centre, Kiriyangi, Kenya at the weekend.
The Africa tournament, which featured seven countries that included Nigeria, Uganda, Sierra Leone, Gambia, Tanzania, Kenya and Zambia with 62 players in attendance, saw Nigeria once again stamping its feet at the African scrabble scene by retaining both the individual and country titles for the 12th time.
Peter proved beyond reasonable doubt that he was the world second best player and Africa's number one scrabble player when he defeated his opponents after game 30 of the just concluded Africa Scrabble Championship.
The national scrabble coach, Anthoney Ikolo, commended the 11 players that took part in the Africa championship and for giving their best and flying high the nation's flag in Kenya.
He noted that the country's representatives would not relent in dominating the continent in the game scrabble in Africa, adding that Nigeria's success in the East Africa country could be attributed to hard work and determination to succeed by the players.